Synopsis
A riveting firsthand account and incisive analysis of modern protest, revealing internet-fueled social movements' greatest strengths and frequent challenges.
Could the ability to organize massive protests quickly on Facebook and Twitter be making those protests vulnerable in the long term? If new technologies are so empowering, why are so many movements failing to curb authoritarianism's rise? Is a glut of misinformation more effective censorship than directly forbidding speech? Why are so many of today's movements leaderless?
Zeynep Tufekci answers these questions and more, speaking from direct experience and combining on-the-ground observations with insightful analysis. She explains the role the internet played in the Zapatista uprisings in Mexico, the power of remote Twitter users to organize medical supplies during the Arab Spring, the refusal to use bullhorns in the Occupy Movement that started in New York, and the empowering effect of tear gas in Istanbul's Gezi Park. She also looks at how governments have responded to the rise of digital tools with their own methods, including misinformation, distraction, and surveillance. Her observations from life inside social movements complete a moving investigation of politics, technology, and culture—and offer essential and surprising insights into the public sphere and future of governance in the 21st century.
Reviews
If you're interested in what's happening in the world today, this book is a fascinating read. Even if you're not, it's an unusually informative book about digital platforms usually examined apart from political life. Social interactions in the digital world in the context of political activity is insightfully explored through this wonderfully readable academic study.
Inside Higher Education
This insightful and analytical account of mass protest in the 21st century focuses on the "intertwined" power and weaknesses of new technologies that can be used to galvanize large numbers of people. … This comprehensive, thought-provoking work makes a valuable contribution to understanding recent political developments and provides a clear path by which grassroots organizers can improve future efforts.
Publishers Weekly
It is Tufekci's personal experience in the squares and streets, melded with her scholarly insights on technology and communication platforms, that makes "Twitter and Tear Gas" such an unusual and illuminating work… A work that will be long cited — and deservedly so — by activists, technologists and others grasping at the relationship between our causes and our screens. "Twitter and Tear Gas" is a book that, superimposed on a seemingly familiar landscape, utterly transforms the view.
Washington Post
The author is also insightful on how governments and politicians are moving from censorship, no easy task on social media, to attention-grabbing and misinformation. "Just as attention is under-appreciated as a resource for social movements, distractions and ignorance are under-appreciated as methods of repression through denial of attention," she writes. Sowing cynicism is a powerful tool against protest: "If everything is in doubt, while the world is run by secret cabals that successfully manipulate everything behind the scenes, why bother?" … "Twitter and Tear Gas" is packed with evidence on how social media has changed social movements, based on rigorous research and placed in historical context.
Financial Times
A striking and original conclusion: today's low barrier for organizing a movement can also lead to its long-term frustrations. Tufekci's superb book will define the debate on social protest for years to come.
Dani Rodrik, author of "Economic Rules: The Rights and Wrongs of the Dismal Science"
Tufekci is undoubtedly the most qualified person in the world to explain the meaning of political collective actions catalyzed and coordinated by social media. She knows the technology, the social science, and the politics—and she is the rare academic observer who was at the scene, from Istanbul to Cairo to New York.
Howard Rheingold, author of "Smart Mobs: The Next Social Revolution"
Incisive and illuminating, Tufekci's book arrives at the perfect moment, right when we desperately need our activism to become smarter and more effective than ever before, or else.
Astra Taylor, author of "The People's Platform: Taking Back Power and Culture in the Digital Age" and co-founder of the Debt Collective
There have been many lessons for social movements since I spoke to crowds in Tahrir Square who had gathered after a call on a Facebook page I had launched. This incisive, unique, and timely book—brimming with stories and insightful analyses of protest movements—offers a much-needed perspective on politics and protest in the digital age.
Wael Ghonim, activist and author of "Revolution 2.0"
Tufekci understands 21st-century protest movements both as a scholar and as a participant, from the Arab Spring to Zucotti Park. In "Twitter and Tear Gas", she merges her experiences into a singularly brilliant examination of how movements work and when they don't.
Clay Shirky, author of "Here Comes Everybody" and "Cognitive Surplus"
Informative and exciting read! Tufekci is in the perfect spot between activist and researcher to provide insights that only few can. This book sets new grounds for the analysis of social media and political mobilization.
Rasha Abdulla, author of "The Internet in the Arab World: Egypt and Beyond"
Many have asked why people rebel, but few describe how. Here, Tufekci uses firsthand observation to offer an intelligent and informed examination of the tools and nature of today's political protests.
Vali Nasr, author of "The Dispensable Nation" and "The Shia Revival"
A brilliant work. In a world of tweet-sized summary judgments, Tufekci provides readers with a depth of analysis and important insights that ought to be read by every diplomat and activist.
Alec Ross, former Senior Advisor for Innovation, U.S. Department of State
For all the claims that new technologies afford grassroots movements new power, research on the topic is rare. Tufekci's book provides just that—and a cautionary conclusion.
Doug McAdam, author of "Deeply Divided: Racial Politics and Social Movements in Postwar America"
Upcoming Talks
No talks currently scheduled (or the site is trailing reality). Check back soon!
About Zeynep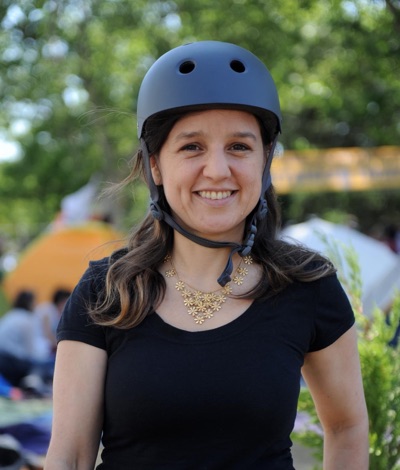 Zeynep's work explores the interactions between technology and society. She started her career as a programmer, and switched to social science after getting interested in social impacts of technology. Zeynep, who grew up in Istanbul, Turkey, and came to the United States for graduate school, is now an associate professor at the University of North Carolina and a contributing opinion writer at the New York Times. She's currently also a faculty associate at the Harvard Berkman Klein Center for Internet and Society. Previously, she was an Andrew Carnegie Fellow, a fellow at Princeton University Center for Information Technology, and an assistant professor of sociology at UMBC.